Whew.What a night.We have some amazing young play-makers on this team. They made some mistakes last night, but the also made some fantastic plays.

AJ Green is worth the price of admission. Branden Smith reminds me of Champ Bailey, when you are looking at his taillights they are always getting smaller. Brandin Boykin played his ass off. Rennie Curran was the difference.
While there was much improvement from last week, some of the same problems persist. Special Teams were Dr. Jekyll - Mr. Hyde. Joe Cox demonstrated the type of play I think we all expect of him. Offensive play calling once again left be confused. The defense, which had to be wore out following the first quarter, was unable to close it out late. Coaching, well, I just don't know what to think.
Grading the Game
Offense: B
The offensive displayed enormous improvement over the Stillwater game. AJ had a fumble, and Cox had an interception, but overall I thought the players played great.
Despite the fumble, AJ looked all world. This Dawg is amazing. I chalk the fumble up to fighting for extra yardage. We should all enjoy him while we have him.
Joe Cox had a workmen like game. The one interception was ill advised, but had he gotten the ball over the linebacker a big play was to be had.
The line blocked well for the most part. Cox took a big hit and fumbled on one drop back, but otherwise the line played well.
Richard Samuels was hell on wheels. The only person in the stadium that could stop him was Mike Bobo. Bobo did redeem himself with an excellent reverse call that demonstrated Branden Smith's amazing speed.
Defense: B-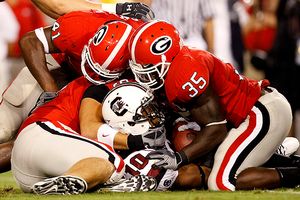 To be fair, Willie's unit was placed behind the eight ball due to turnovers and Boykin taking it to the house. I think they played pretty well given the amount of time they were on the field. Fatigue surely set in late in the game when we were unable to stop Garcia. I could hear Larry counting the seconds down in my head. Scary.
I think we dealt with the run pretty well. They hit a few big plays on us, but I really like our defensive backs. Prince Miller did get burned on one play, but fortuntely for us, it was called back by a penalty.
We never really had an answer for their big tight end. Not really sure anyone will this year. He is a stud.
By the 4th quarter I was not at my best, but I think we were rushing three and playing a deep soft zone. I guess it worked, but I didn't help my life expectancy any.
Special Teams: C+
Branden Boykin! He was sensational on kick returns. Smith, when he wasn't fumbling, also ran hard. Smith just doesn't beleive in downing it. After watching him in the open field last night, I understand why.
Blair Walsh kicked it deep and had two touchbacks. The kickoff unit did allow one lang return, but overall this was the best we have done in quite some time. Walsh also hit another 50 yard field goal.
The punt game was not our strong suit. Butler kicked it decent, but a bad snap led to a safety. Our punt return team also allowed the Cocks to go all Mountaineer on us and faked a punt for a first down.
Coaching: C
+
The psyche of the team had to be in shambles following last week's game and the subsequent finger pointing, contradictions, and yes rumors, appearing in the papers. Give the staff credit for keeping the team together through a difficult practice week.
Aside from Bobo, it is hard for me to be too critical of the coaching. Hell, I only have one gripe with Bobo. I do not know what the coaches were dealing with from a personnel standpoint. The odd time of possesion imballance had to of had an effect on the game plan, but for the life of me I cannot understand why Richard Samuels is not getting more touches. Especially given the amount of time our defense was on the field.
Again, the time of possession was hard on the defense. Willie's gang handled it admirably until late in the game. Garcia's running around as much as he was taking it's toll. End the end, the defense bent but didn't break. I will take it.
Coach Fabs let Walsh kick it deep and straight. That some "Change You Can Believe In". The returns were great, record setting I heard, but the fake punt we allowed was, well it wasn't good.
Overall: W
The game was exciting, and the Dawgs overcame a lot of adversity. Nice job.
I just get the feeling that we were the far more talented team and didn't really play to our potential. I hope I am wrong. I hope Carolina goes on to light it up the rest of the year, but I don't think that will be the case.
I'll go back to offensive play calling. The offense had a darn good night, but I still don't think you stop yourself. If they can't stop the run, don't stop it for them. I do not care how many great plays you have game planned during the week. If they are not making adjustments to stop the run, keep pounding it until the do. Once they adjust, then the other things will open up even more.